Libra Rashi- Yearly Prediction 2017 (Based on Moon Sign)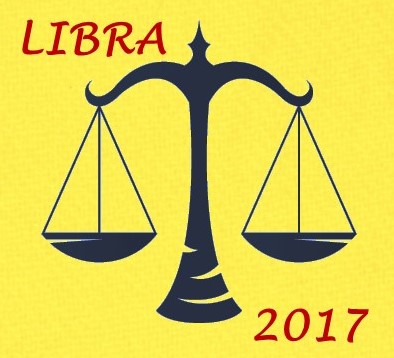 This prediction is based on moon sign. Please do not get confused with sun sign which depends only on date of birth and position of Sun. So you are suggested to first find out Moon sign in birth chart and read this article. Libra is the sign of business. They are true business man and probably have the finest taste of fashion.
This year Jupiter is placed in 12th house of spirituality and expenditure. Hence this Jupiter would support in your spiritual endeavour. Being in the house of expenses it may incline you to purchase things on credit. The aspect on 4th house is the best placement for buying property and house before September. Since Jupiter is lord of 3rd and 6th house, the natives in MNCs, foreign investments, meditation, yoga, reiki are going to be benefited this year. This Jupiter can help in improving the health ailments by spiritual methods. Not a very encouraging placement for students as it is 8th for house of education. One can gain through enemies and court cases as Jupiter is aspecting its own 6th house. The aspect on 8th house would prevent accidents and would give inclination in mystic mantras. Those who are in search of Guru can find suitable guru in foreign places. There is need to take extreme care before making any investments. After September the Jupiter would move to Lagna that would bring big relief on many fronts. It can create opportunities to switch into new and better jobs. Now you are ready to put lot of effort on your assignments. September onwards this Jupiter would assist into fixing marriage and meeting with your love mate. One can also be blessed with child by end of 2017 or beginning of 2018. Those who are aspiring for PHD and other higher degrees are certainly going to get of positive blessings of Jupiter. One must write competitive exams to get entry into prestigious colleges. There would also be opportunities for long journeys and pilgrimages after September 2017.
This year Saturn is placed in 3rd house of self-efforts. This can help in starting own business and work hard to achieve the goals. Being lord of 5th house, Saturn would certainly help to the natives in the field of music and creative arts. It would help Jupiter in birth of child. One must plan for child this year. The aspect on 9th house is excellent for religious developments and long journeys. Again it can help in securing on-site opportunities. Those who are not able to resolve property disputes can expect resolve of disputes. In 2nf half of 2017, Rahu is transiting to 10th house and ketu in 4th house. This Rahu is certainly be excellent for career growth and getting awards. The politicians may win elections provided vimshottari dasha also supports. However, Ketu in 4th house is not good for mental peace. Practice meditation and deal the family issues with patience.
To summarise, this is a year of exploring your inner strengths. You need to strong and positive inside to understand the complexities to world. Pray to Lord Krishna for spiritual development.