Cancer Rashi- Yearly Prediction 2017 (Based on Moon Sign)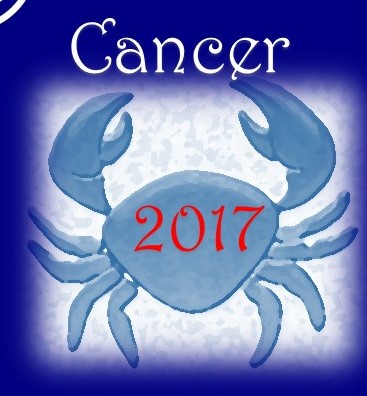 This prediction is based on moon sign. Please do not get confused with sun sign which depends only on date of birth and position of Sun. So you are suggested to first find out Moon sign in birth chart and read this article. Cancer is a family man and usually a real patriot. However material security is their first priority.
This year the lord of 9th and 6th house Jupiter is posited in 3rd house of journeys. There can be several short journeys this year. You may visit pilgrimages or may take pleasure tour to relieve the stresses caused by Saturn in 6th house. Since Jupiter is also 6th lord, your younger sibling can face some problems regarding health. The professional growth of younger sibling is not excellent this year. However the aspect on 7th house and 9th house is creating conditions for marriage/re-marriage. The simultaneous aspect on 9th house is prefect condition for marriage and conception. So one can be blessed with early child. There can be lot of gains for natives having own business or self-employed. If you are dreaming to convert your hobby into serious profession, this Jupiter can give you early gains. So go for it. In fact Government is also encouraging entrepreneurship. The Natives involved in professions of marketing, advertisement, dancing, music instruments, motivational speaking etc are definitely going to enjoy the blessing of Jupiter till September 2017. After September, Jupiter is entering in Libra Sign in 4th house. The native may take money on loan for buying, extension or beautification of house. The Environment of Home is going to be very religious during fag end of 2017. One can face some arguments in house that needs to be dealt with patience. The aspect on 12th house is excellent for software engineers. They can get on-site opportunities inspite of latest instruction by new government. One can also try to change job or place after September 2017. One may be able to resolve the ancestral property issues with tact and patience.
The position of Saturn in 6th house can bring stability in career. Those who are still not able to fix their area of profession, this Saturn can help. It is going to stay for next two years, so use this opportunity. This can also help in getting support of junior colleagues and servants. A very positive placement to overcome enemies. Saturn would frustrate the opponents. Thus a positive year to win cases. However you need to be careful regarding health and relationship with in-laws. Again Saturn is assisting Jupiter for on-site opportunities.
From July 2017 Rahu and ketu are along 1-7 axis, an axis of sudden events. Ketu in 7th may cause relationship and health issues below navel portion. You need to restrict your ambitions. Rahu is expanding your desires without any concrete action. So act only after making full-proof plan. This is a year of self-effort and putting maximum effort.
An excellent year for budding entrepreneurs. Do not trap into unrealizable dreams of Rahu. Pray to goddess Durga and Lord Krishna for finding out the right course of action.