Gemini Rashi- Yearly Prediction 2017 (Based on Moon Sign)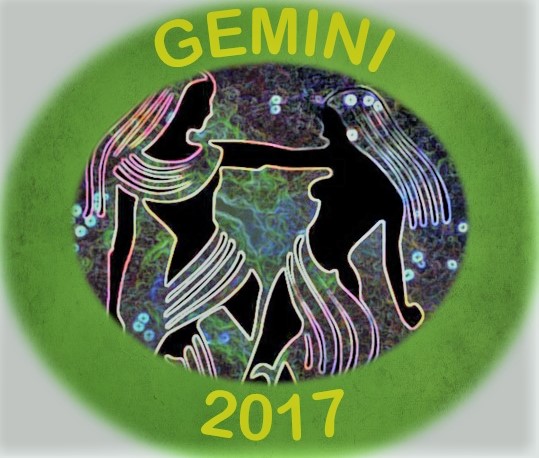 This prediction is based on moon sign. Please do not get confused with sun sign which depends only on date of birth and position of Sun. So you are suggested to first find out Moon sign in birth chart and read this article. Gemini is the most versatile and extremely sign. They are all about doing multiple tasks together.
This year Gemini natives are fortunate in terms of house and property. The benefic Jupiter is transiting in the 4th house of mental peace and happiness. The relationship with family members would be jovial that would bring relief from mental stress. Jupiter being lord of 10th house is posited in 4th house of homeland. Therefore a very favourable time for politicians and leaders and they could win elections this year. The aspect on 8th house could bring sudden wealth from family. You could also gain some paternal/maternal property. Till September the Native can acquire property. So if you are facing any issue in acquiring property, it's time to put your maximum effort. If other planetary combinations support, one can get on-site opportunity. What best one can get. It is an excellent period for upgrading your job. You can apply for new responsibilities and positions. The transit of Jupiter in September to libra sign is certainly an auspicious placement in terms of begetting child and entering the wedlock. Pray to lord Vishnu to receive the blessings of Jupiter for marriage and child. The natives can gain through share market, short-term investments and speculation. Those who are in the field of education, women and child development, astrology are surely going to get benefitted. An auspicious transit to work on mantras and their siddhis and finding guru. One may have to travel for higher education and attaining PhD degrees. After September, one may fall into serious love affairs and relationships. Serious here means the prospecting bride/ bridegrooms.
Transit analysis of Saturn is the most feared one. This year Saturn is in 7th house of marriage and relationships. Saturn along with Jupiter are major destiny points. This Saturn may support the marriage part. The aspect in 10th house can take you to other cities and place of home environment. Foreign journeys can not be denied. However, there could be some misunderstanding with spouse till September 2017. Try to deal with patience, romance and wisdom.
Rahu is transiting to 2nd and 8th axis from July 2017. Beware of this Rahu as it can make you run after accumulating wealth. Excess of anything is not advisable. You would gain lot of wealth but you may lose the affection of near and dear ones in the end of this transit. Ketu in 8th house can being some health issues that need to be checked. Never ignore even minor health ailment. I am seeing 'wealth' everywhere in 2017.
Definitely an outstanding year. However you need to check on the means of wealth accumulation. Stay away from dubious means of earning money. Pray to Lord Krishna to stick on right Path.